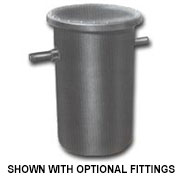 Polyethylene and Polypro Plastic Acid Neutralization
Acid neutralization and Brine Tanks, Available in Polyethylene and Polypropylene plastic resins.
Options include internal piping to control the flow of liquids across a solids bed, that many include limestone for acid neutralization, salt dilution to a brine solution or water to create a small flow rate fume scrubber.
These tanks have years of proven suitability in handling tough effluents. Our line of tanks are designed to with stand the heat of neutralization and the corrosive attack of acids or other types of chemical waste.
| | | | | | | |
| --- | --- | --- | --- | --- | --- | --- |
| TC1114KA | 5 Gallon Acid Neutralization Tank | 5 | | 14 | 11 | TN |
| TC1815KA | 15 Gallon Acid Neutralization Tank | 15 | | 15 | 18 | CA,IL,PA |
| TC1829KA | 30 Gallon Acid Neutralization Tank | 30 | | 29 | 18 | TN |
| TC2236KA | 55 Gallon Acid Neutralization Tank | 55 | | 36 | 22 | CA,IL, |
| TC2842KA | 100 Gallon Acid Neutralization Tank | 100 | | 42 | 28 | CA,IL,NY |
| TC3148KA | 150 Gallon Acid Neutralization Tank | 150 | | 48 | 31 | CA,IL,NY |
| TC3648KA | 200 Gallon Acid Neutralization Tank | 200 | | 48 | 36 | CA,IL,NY |
| TC4248KA | 275 Gallon Acid Neutralization Tank | 275 | | 48 | 42 | CA,IL,NY |
| TC4848KA | 350 Gallon Acid Neutralization Tank | 350 | | 48 | 48 | CA,IL,NY |
| TC5260KA | 500 Gallon Acid Neutralization Tank | 500 | | 60 | 52 | CA,IL,NY |
| TC6984KA | 1200 Gallon Acid Neutralization Tank | 1200 | | 84 | 69 | CA,IL,NY |
| TC7384KA | 1500 Gallon Acid Neutralization Tank | 1500 | | 84 | 73 | NY |
| TC8484KA | 2000 Gallon Acid Neutralization Tank | 2000 | | 84 | 84 | CA,IL,NY |
| TC1114KB | 5 Gallon Acid Neutralization Tank | 5 | | 14 | 11 | CA |
| TC1815KB | 15 Gallon Acid Neutralization Tank | 15 | | 15 | 18 | CA |
| TC1829KB | 30 Gallon Acid Neutralization Tank | 30 | | 29 | 18 | CA |
| TC2236KB | 55 Gallon Acid Neutralization Tank | 55 | | 36 | 22 | CA |
| TC2842KB | 100 Gallon Acid Neutralization Tank | 100 | | 42 | 28 | CA |
| TC3148KB | 150 Gallon Acid Neutralization Tank | 150 | | 48 | 31 | CA |
| TC3648KB | 200 Gallon Acid Neutralization Tank | 200 | | 48 | 36 | CA |
| TC4248KB | 275 Gallon Acid Neutralization Tank | 275 | | 48 | 42 | CA |
| TC4848KB | 350 Gallon Acid Neutralization Tank | 350 | | 48 | 48 | CA |
| TC5260KB | 500 Gallon Acid Neutralization Tank | 500 | | 60 | 52 | CA |
| TC1829HA | 30 Gallon Brine Tank | 30 | | 29 | 18 | TN |
| TC1840HA | 40 Gallon Brine Tank | 40 | | 40 | 18 | NY,IL,CA,FL,PA,TN |
| TC2236HA | 55 Gallon Brine Tank | 55 | | 36 | 22 | NY,IL,CA,FL,PA,TN |
| TC2832HA | 85 Gallon Brine Tank | 85 | | 32 | 28 | NY |
| TC2448HA | 90 Gallon Brine Tank | 90 | | 48 | 24 | NY,IL,CA,FL |
| TC2842HA | 100 Gallon Brine Tank | 100 | | 42 | 28 | NY,IL,CA,FL,PA,TN |
| TC3148HA | 150 Gallon Brine Tank | 150 | | 48 | 31 | NY,IL,CA,FL,PA,TN |
| TC3648HA | 200 Gallon Brine Tank | 200 | | 48 | 36 | NY,IL,CA,FL,PA,TN |
| TC4248HA | 275 Gallon Brine Tank | 275 | | 48 | 42 | NY,IL,CA,FL,PA,TN |
| TC4848HA | 360 Gallon Brine Tank | 360 | | 48 | 48 | NY,IL,CA,FL,PA,TN |
| TC5260HA | 500 Gallon Brine Tank | 500 | | 60 | 52 | NY,IL,CA,FL,PA,TN |