For your review we present some information on a variety of flanges and related information.
Flange dimensions, Flange Bolt sizes, Number of flange bolts, Diameter of Flange bolts, Length of Flange bolts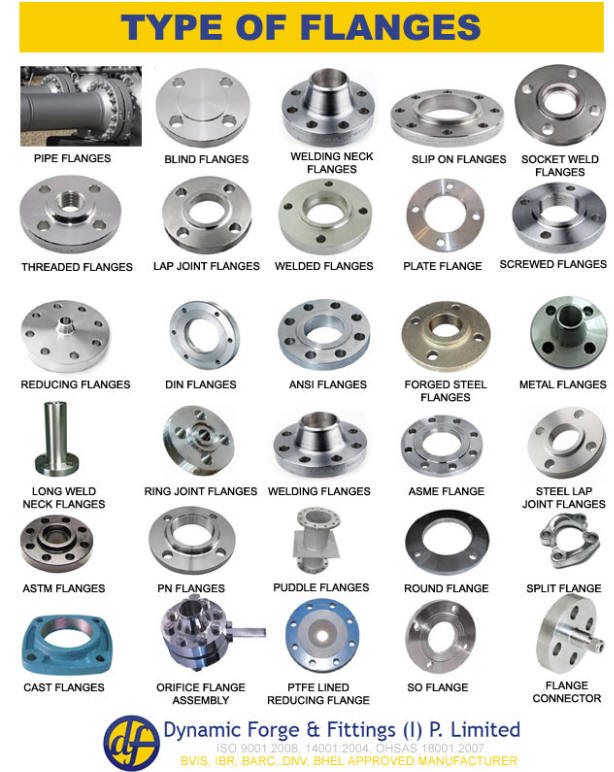 Flange dimensions are determined by the pipe size and pressure class required for the application.
These dimensions have been standardized and published as ANSI, ASME, API or other standardization organization specifications.
ASME/ANSI B16.5 provides dimensions and tolerances for flanges in pipe sizes from 1/2″ through 24″ and in classes ranging 150 through 2500.
Nominal Pipe Size
NPS
(inches)

Class 150

Diameter of
Flange
(inches)
No.
of
Bolts
Diameter of
Bolts
(inches)
Bolt
Circle
(inches)

1/4

3-3/8

4

1/2

2-1/4

1/2

3-1/2

4

1/2

2-3/8

3/4

3-7/8

4

1/2

2-3/4

1

4-1/4

4

1/2

3-1/8

1-1/4

4-5/8

4

1/2

3-1/2

1-1/2

5

4

1/2

3-7/8

2

6

4

5/8

4-3/4

2-1/2

7

4

5/8

5-1/2

3

7-1/2

4

5/8

6

3-1/2

8-1/2

8

5/8

7

4

9

8

5/8

7-1/2

5

10

8

3/4

8-1/2

6

11

8

3/4

9-1/2

8

13-1/2

8

3/4

11-3/4

10

16

12

7/8

14-1/4

12

19

12

7/8

17

14

21

12

1

18-3/4

16

23-1/2

16

1

21-1/4

18

25

16

1-1/8

22-3/4

20

27-1/2

20

1-1/8

25

24

32

20

1-1/4

29-1/2
Nominal Pipe Size
NPS
(inches)

Class 300

Diameter of
Flange
(inches)
No.
of
Bolts
Diameter of
Bolts
(inches)
Bolt
Circle
(inches)

1/4

3-3/8

4

1/2

2-1/4

1/2

3-3/4

4

1/2

2-5/8

3/4

4-5/8

4

5/8

3-1/4

1

4-7/8

4

5/8

3-1/2

1-1/4

5-1/4

4

5/8

3-7/8

1-1/2

6-1/8

4

3/4

4-1/2

2

6-1/2

8

5/8

5

2-1/2

7-1/2

8

3/4

5-7/8

3

8-1/4

8

3/4

6-5/8

3-1/2

9

8

3/4

7-1/4

4

10

8

3/4

7-7/8

5

11

8

3/4

9-1/4

6

12-1/2

12

3/4

10-5/8

8

15

12

7/8

13

10

17-1/2

16

1

15-1/4

12

20-1/2

16

1-1/8

17-3/4

14

23

20

1-1/8

20-1/4

16

25-1/2

20

1-1/4

22-1/2

18

28

24

1-1/4

24-3/4

20

30-1/2

24

1-1/4

27

24

36

24

1-1/2

32
Nominal Pipe Size
NPS
(inches)

Class 400

Diameter of
Flange
(inches)
No.
of
Bolts
Diameter of
Bolts
(inches)
Bolt
Circle
(inches)

1/4

3-3/8

4

1/2

2-1/4

1/2

3-3/4

4

1/2

2-5/8

3/4

4-5/8

4

5/8

3-1/4

1

4-7/8

4

5/8

3-1/2

1-1/4

5-1/4

4

5/8

3-7/8

1-1/2

6-1/8

4

3/4

4-1/2

2

6-1/2

8

5/8

5

2-1/2

7-1/2

8

3/4

5-7/8

3

8-1/4

8

3/4

6-5/8

3-1/2

9

8

7/8

7-1/4

4

10

8

7/8

7-7/8

5

11

8

7/8

9-1/4

6

12-1/2

12

7/8

10-5/8

8

15

12

1

13

10

17-1/2

16

1-1/8

15-1/4

12

20-1/2

16

1-1/4

17-3/4

14

23

20

1-1/4

20-1/4

16

25-1/2

20

1-3/8

22-1/2

18

28

24

1-3/8

24-3/4

20

30-1/2

24

1-1/2

27

24

36

24

1-3/4

32
Nominal Pipe Size
NPS
(inches)

Class 600

Diameter of
Flange
(inches)
No.
of
Bolts
Diameter of
Bolts
(inches)
Bolt
Circle
(inches)

1/4

3-3/8

4

1/2

2-1/4

1/2

3-3/4

4

1/2

2-5/8

3/4

4-5/8

4

5/8

3-1/4

1

4-7/8

4

5/8

3-1/2

1-1/4

5-1/4

4

5/8

3-7/8

1-1/2

6-1/8

4

3/4

4-1/2

2

6-1/2

8

5/8

5

2-1/2

7-1/2

8

3/4

5-7/8

3

8-1/4

8

3/4

6-5/8

3-1/2

9

8

7/8

7-1/4

4

10-3/4

8

7/8

8-1/2

5

13

8

1

10-1/2

6

14

12

1

11-1/2

8

16-1/2

12

1-1/8

13-3/4

10

20

16

1-1/4

17

12

22

20

1-1/4

19-1/4

14

23-3/4

20

1-3/8

20-3/4

16

27

20

1-1/2

23-3/4

18

29-1/4

20

1-5/8

25-3/4

20

32

24

1-5/8

28-1/2

24

37

24

1-7/8

33
Nominal Pipe Size
NPS
(inches)

Class 900

Diameter of
Flange
(inches)
No.
of
Bolts
Diameter of
Bolts
(inches)
Bolt
Circle
(inches)

1/2

4-3/4

4

3/4

3-1/4

3/4

5-1/8

4

3/4

3-1/2

1

5-7/8

4

7/8

4

1-1/4

6-1/4

4

7/8

4-3/8

1-1/2

7

4

1

4-7/8

2

8-1/2

8

7/8

6-1/2

2-1/2

9-5/8

8

1

7-1/2

3

9-1/2

8

7/8

7-1/2

4

11-1/2

8

1-1/8

9-1/4

5

13-3/4

8

1-1/4

11

6

15

12

1-1/8

12-1/2

8

18-1/2

12

1-3/8

15-1/2

10

21-1/2

16

1-3/8

18-1/2

12

24

20

1-3/8

21

14

25-1/4

20

1-1/2

22

16

27-3/4

20

1-5/8

24-1/2

18

31

20

1-7/8

27

20

33-3/4

20

2

29-1/2

24

41

20

2-1/2

35-1/2
Nominal Pipe Size
NPS
(inches)

Class 1500

Diameter of
Flange
(inches)
No.
of
Bolts
Diameter of
Bolts
(inches)
Bolt
Circle
(inches)

1/2

4-3/4

4

3/4

3-1/4

3/4

5-1/8

4

3/4

3-1/2

1

5-7/8

4

7/8

4

1-1/4

6-1/4

4

7/8

4-3/8

1-1/2

7

4

1

4-7/8

2

8-1/2

8

7/8

6-1/2

2-1/2

9-5/8

8

1

7-1/2

3

10-1/2

8

1-1/8

8

4

12-1/4

8

1-1/4

9-1/2

5

14-3/4

8

1-1/2

11-1/2

6

15-1/2

12

1-3/8

12-1/2

8

19

12

1-5/8

15-1/2

10

23

12

1-7/8

19

12

26-1/2

16

2

22-1/2

14

29-1/2

16

2-1/4

25

16

32-1/2

16

2-1/2

27-3/4

18

36

16

2-3/4

30-1/2

20

38-3/4

16

3

32-3/4

24

46

16

3-1/2

39
Nominal Pipe Size
NPS
(inches)

Class 2500

Diameter of
Flange
(inches)
No.
of
Bolts
Diameter of
Bolts
(inches)
Bolt
Circle
(inches)

1/2

5-1/4

4

3/4

3-1/2

3/4

5-1/2

4

3/4

3-3/4

1

6-1/4

4

7/8

4-1/4

1-1/4

7-1/4

4

1

5-1/8

1-1/2

8

4

1-1/8

5-3/4

2

9-1/4

8

1

6-3/4

2-1/2

10-1/2

8

1-1/8

7-3/4

3

12

8

1-1/4

9

4

14

8

1-1/2

10-3/4

5

16-1/2

8

1-3/4

12-3/4

6

19

8

2

14-1/2

8

21-3/4

12

2

17-1/4

10

26-1/2

12

2-1/2

21-1/4

12

30

12

2-3/4

24-3/8